Posted by TheShot on 25 Jan 2008 | Tagged as: Home Brew, Machine
Today's Seattle Times reported on how the exchange rate wreaked havoc on the American waiting list for the La Marzocco GS/3 — their first machine designed with home use in mind: Retail Report | Espresso-machine price leaves some steaming | Seattle Times Newspaper.
For two years, La Marzocco promised a hefty $4,500 price tag for the device. But when the device was finally unveiled for sale by the American distributor for Franke late last year, two years of Bush Administration spending like a drunken sailor on shore leave depressed the U.S. dollar enough to jack up the price of the Italian-manufactured machine to $7,500. Thus making the New York Times' exaggerations earlier this week seemingly rank a little lower on the hyperbole scale.
But like the confused Food Network viewers who insist upon commercial ovens in their home kitchens, regardless of the Byzantine building codes for ventilation systems required by these megaliths, somehow we doubt that the extra $3,000 is really going to stop someone that hell bent on consumption.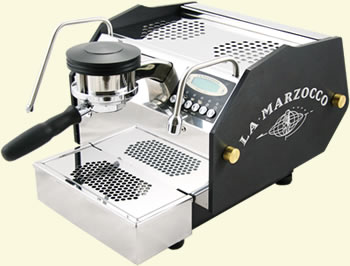 6 Comments »
6 Responses to "The La Marzocco GS/3 comes home: Espresso-machine price leaves some steaming"